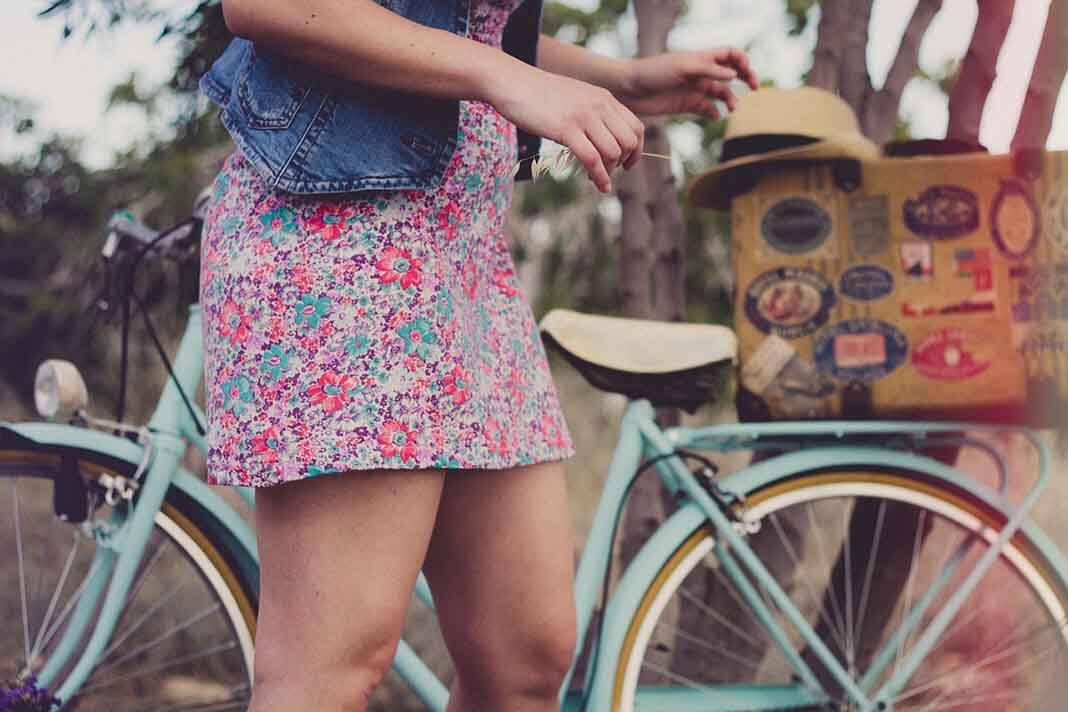 You pay for the view out here. Five of the nation's 10 least affordable counties are in the Bay Area or along the Central Coast between Santa Cruz and San Luis Obispo.
Marin County tops the list of pricey housing markets. The percentage of one's average annual wages needed to purchase a median-priced home there is 126.4 percent, according to a second quarter report from Attom Data Solutions, which compiles nationwide property data.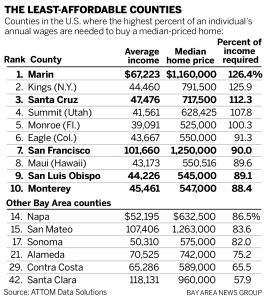 Thinking of moving because you can't afford a house? Try Tennessee, which is filled with affordable counties. In Roane County, part of the Knoxville metropolitan area, just 10.1 percent of one's annual income will get you into a median-priced house. Average annual wages there are $60,294 and that median-priced home costs $85,000.
Compare that with Marin County, where average annual wages are in the same ballpark — $67,223 — but the median price of a home is $1,160,000.
Santa Cruz County is third on the list of least affordable counties — a mere 112.3 percent of an individual's wages are needed there — while San Francisco ranks seventh (90.3 percent). San Luis Obispo County is ninth (89.1 percent) and Monterey County is tenth (88.4 percent).
The "combination of accelerating home price growth and slowing wage growth, along with mortgage interest rates that are up nearly 50 basis points from a year ago, eroded home affordability nationwide to the lowest level in nearly nine years," said Daren Blomquist, senior vice president at Attom Data Solutions, in a statement. He added that those factors had "pushed the highest share of markets beyond the threshold of normal affordability in nearly eight years."
Other pricey counties include Napa (where 86.5 percent of annual wages are needed to buy a median-priced house), Sonoma (82.0 percent) and San Mateo (83.6 percent)
Relative bargains further down the list are Alameda County (75.2 percent), Contra Costa County (65.5 percent) and Santa Clara County (57.9 percent).
Attom Data's methodology assumes a 30-year fixed rate mortgage and a three percent down payment, including property taxes and insurance. The fact that affordability is so low — even with such a minimal down payment — in so many California markets is a testament to the unsustainable price growth that has occurred in much of the state as the job corps expands and housing supply remains badly cramped.
In more detail, here's how the numbers play out in three counties in the second-quarter report.
In Marin County, keep in mind that $1,160,000 median price, as well as the average monthly mortgage payment of $7,081. The county's year-over-year median price appreciation was 15 percent, while the average weekly wage grew just 3 percent on a year-over-year basis. Average annual wages in Marin County are $67,223. And once again, 126.4 percent of annual wages are needed to buy a median-priced home.
Let's do that same set of numbers for Santa Cruz County, where the median home price is $717,500 and the monthly payment is $4,443. Year-over-year price appreciation was 5 percent, compared with a 2 percent decline in the average weekly wage. Average annual wages in Santa Cruz are $47,476 — and 112.3 percent of annual wages are needed to buy a home.
Finally, these are the numbers for Santa Clara County. The median home price is $960,000 and the monthly payment is $5,697. Year-over-year price growth was 7 percent, while the average weekly wage grew just 1 percent. However, annual wages in the heart of Silicon Valley are $118,131 — far higher than in Marin or Santa Cruz — and, as a result, 57.9 percent of annual wages are needed to buy that median-priced home.